AGM Announcement
---
---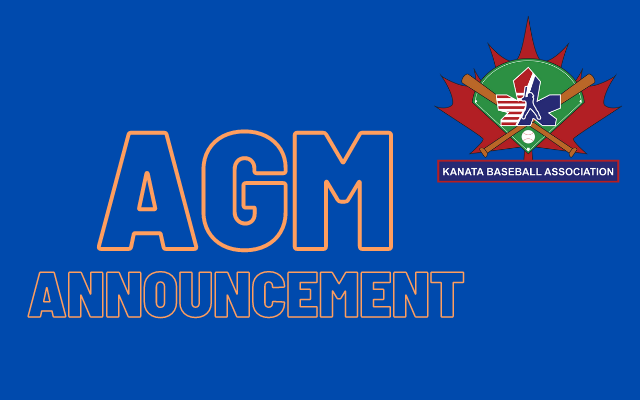 ---
Hello Kanata Baseball Members,
This year's Annual General Meeting (AGM) is scheduled for Oct 20th at 7pm. See the updated details below.
Right now we are issuing a call for nominations for vacant positions. Please self-nominate or nominate someone you know for any of these positions (reply to this email with full name and position name). Nominations from the floor may not be possible this year due to the meeting format so please pre-submit your intention for all nominations.
The following Executive Board positions are up for election:
1) Secretary
2) President
3) VP Operations of Baseball
4) Treasurer
In addition to these elected positions, there are a number of one-year director, manager and committee positions that need volunteers. Remember, KBA is 100% volunteer driven and we need help to provide a positive baseball experience for all our players. Many of these roles have further descriptions on our website under the 'volunteering' button.
a) Director of House Programs
b) Director of Competitive Programs
c) Director of Special Programs
d) Director of Tournaments
e) Conveners (all levels, Initiation, Rookie, Minor, Major, Junior, Senior)
f) Fields Officer(s) & Committee
g) Fundraising Manager & Committee
h) Equipment Manager & Committee
i) Uniform Committee
j) Safety Committee
If you are currently in one of these roles and wish to continue in 2021, please let me know as well.
** UPDATE **
New restrictions on gathering limits within public facilities mean the AGM, being held on October 20, will be entirely online. Regardless of the hall size, we are limited to 10 people in attendance - the executive, directors, and conveners alone exceed that capacity!
Please register to reserve your spot in the Zoom meeting starting at 7pm on Tuesday, October 20!
To register each member,
Click "Register" on the main menu.
Log into your account (or create a new account).
Select "Register as a Participant"
Under "Choose a Season", select "2020 Special Events"
Select an adult family member who will attend the meeting
At the bottom under "Division", choose "Adult"
Check the box next to "Annual General Meeting"
Click "Continue"
On the following page, click "Submit Registration"
All registrants will be sent important and pertinent information ahead of the meeting including the Zoom meeting link, financial reports, and logo contest entries. Please keep in mind that only members in good standing are entitled to vote at the AGM.
Registration will close at 7pm on Monday, October 19 (24 hours before the meeting) to give us time to distribute all of the needed materials.
Thank you KBA Members,
Sandi Robertson
VP Administration
Kanata Baseball Association