Rep Try-Outs Registration is OPEN
---
---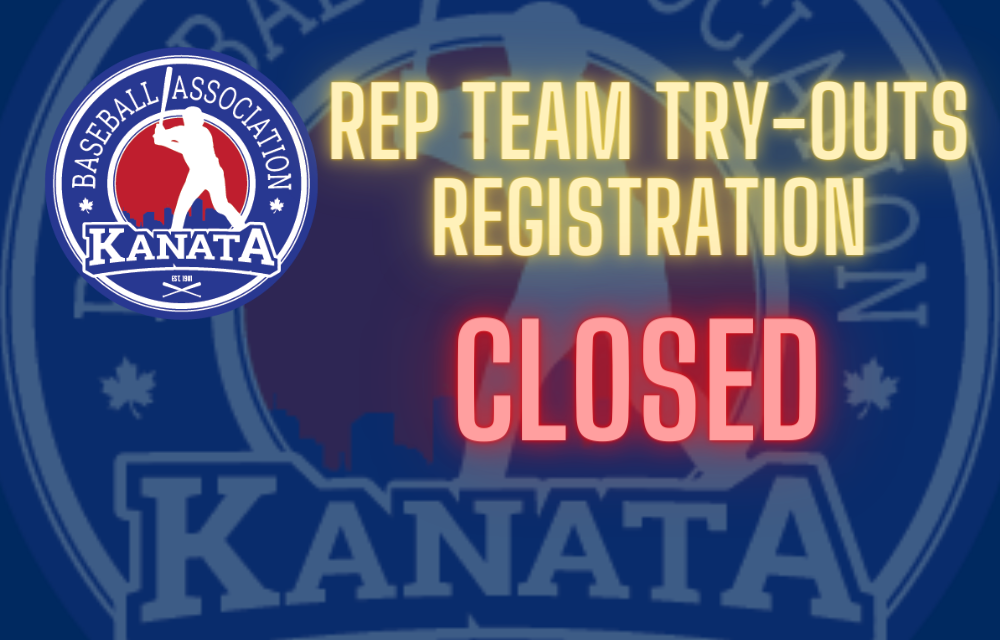 ---
*** Online registration is now DISABLED. Please contact registrar@kanatabaseball.com for last minute registrations. ***
The deadline to register for Rep team tryouts is September 23. These tryouts are held to form our 2022 season competitive Rep (OBA) teams from 10U (Minor Mosquito) up to 18U (Major Midget).
Tryouts will take place outdoors on a baseball field on these two dates:
Sunday September 26
Sunday October 3
To participate in the tryouts, all players must be registered, the registration fee ($15) must be paid, and players must attend at least one of the two Sunday tryout sessions. All registrations are vetted by our Registrar to ensure players reside within our territory boundaries before tryouts.
Below is a draft schedule for planning purposes (time changes are possible, dates and diamonds are fixed)
| Date | Start Time | End Time | Field | Division |
| --- | --- | --- | --- | --- |
| 26-Sep | 2:00pm | 4:30pm | Scott Tokessy | 10U - Martin Ballard |
| 26-Sep | 12:30pm | 3pm | Mike Channing | 11U - Brian Pettigrew |
| 26-Sep | 9:30am | 12 noon | Frank McDonald | 13U - Mark Kapfer |
| 26-Sep | 12:30pm | 3pm | Frank McDonald | 12U - John Craig |
| 26-Sep | 1:30pm | 4pm | Lower Kinsmen | 14U - Brock Heilman, Chris Read |
| 26-Sep | 12:30pm | 3pm | Upper Kinsmen | 15U (with 16U group) |
| 26-Sep | 9:30am | 12 noon | Upper Kinsmen | 18U - Bob Turcotte |
| 26-Sep | 12:30pm | 3pm | Upper Kinsmen | 16U - Jim Bonner |
| | | | | |
| 03-Oct | 9:30am | 12 noon | Mike Channing | 10U - Martin Ballard |
| 03-Oct | 12:30pm | 3pm | Mike Channing | 11U - Brian Pettigrew |
| 03-Oct | 9:30am | 12 noon | Frank McDonald | 13U - Mark Kapfer |
| 03-Oct | 12:30pm | 3pm | Frank McDonald | 12U - John Craig |
| 03-Oct | 1:30pm | 4pm | Lower Kinsmen | 14U - Brock Heilman, Chris Read |
| 03-Oct | 9:30pm | 12 noon | Lower Kinsmen | 15U |
| 03-Oct | 9:30am | 12 noon | Upper Kinsmen | 18U - Bob Turcotte |
| 03-Oct | 12:30pm | 3pm | Upper Kinsmen | 16U - Jim Bonner |