Last Call for Major All-Star Coach Applications
---
---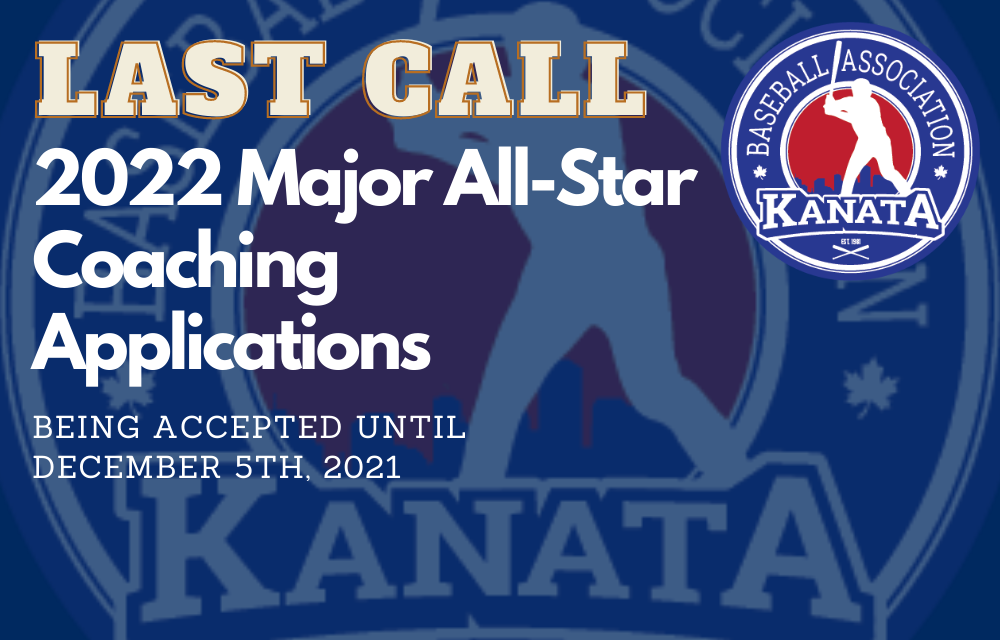 ---
Kanata Baseball is hosting a Major All-Star team in 2022 - this team is for players Little League Age 11 and 12 in 2022 (born between September 2009 and August 2011).
Candidate players will be offered exciting opportunities new to Kanata Baseball. For more information, please contact our VP Programs at vpprograms@kanatabaseball.com or the Registrar at registrar@kanatabaseball.com
Tryouts for this team will be held in May after the Spring season has gotten well underway.
The Major All-Star Team is taking applications for the Head Coach position - interviews will be conducted in December by the Competitive Committee. If you enjoy the game of baseball and would like to share that with a group of talented and eager children, sign up today! Coaching with KBA means you get training, your uniform and support from an established organization with a many experienced coaches willing to mentor should you request it. To introduce yourself,
Go to kanatabaseball.com
Click "Register" in the main menu
Log in to your profile. If new to Kanata Baseball, create a new profile for yourself.
Select "Register as a coach or staff member"
Select "2022 House League / Junior / Senior / GOBL"
Select the coach applicant (yourself)
Select "Little League Major" as the division and select the desired role (Assistant Coach applicants will not be interviewed in December by the Competitive Committee)
Check the "All-Star/District Coach Application" package
Complete the remaining registration steps
A member of the competitive committee will contact you!
Applications are being accepted until December 5th, 2021.