Girls Baseball
---
---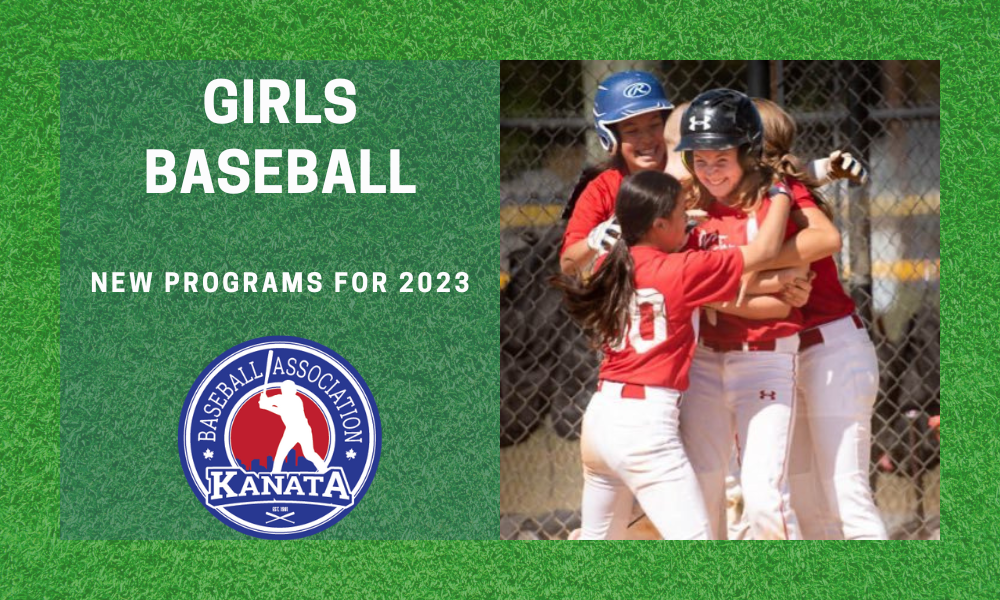 ---
Last season we were very proud to bring Girls Baseball back to the KBA and our girls teams had amazing seasons developing their skills and playing against other local girls teams. Now we're offering new and expanded girls programs for 2023. See the new Girls program options below.


Our district includes the communities or Richmond, Munster, Stittsville, Kanata, Carp, Dunrobin and all areas in between. Our goal is to get players on to the fields to play baseball with their friends.
Free Try Baseball for Girls Clinic - Update: This program is full!
We're hosting a free "try baseball" clinic for girls ages 6 to 15 in the Bell Sensplex fieldhouse on February 3, 2023 from 5:00 - 6:30 pm for. This is an excellent opportunity for new players to try baseball through a series of fun drills and games. Returning players or girls with any t-ball/softball/baseball experience are also welcome to join this clinic and to bring a friend.
Participants should wear comfortable athletic clothing (shorts/pants/tights) and athletic shoes. Cleats are not permitted in the fieldhouse. Participants should bring a baseball glove and a batting helmet. If you don't have a glove or helmet, you may be able to borrow one from a friend or ask to borrow one on our Kanata Baseball Equipment Buy/Sell/Give Facebook group.
Registration is full for this free clinic, but there are spaces open in our Girls Winter Training Program - see below. You can register via the RAMP Registration system. If you need help, check out our How to Register page.
Special Guest Instructor - Tess Forman
We're very fortunate to have Tess Forman join us as an instructor for this clinic. Tess has played baseball at a high level for several years and was the first female player to play for the Carleton University Baseball Team. (They had to drop the word "Men's" from the team name after Tess knocked down that barrier for future players!) Don't miss this opportunity for our young players to benefit from Tess' baseball experience and skills.
Questions?
If you have questions, you can contact our Girls Baseball Convener at girls@kanatabaseball.com.
Girls Winter Training Program
This indoor skills development program for girls will run on Friday evenings from 5:00 - 6:30 p.m. at the Bell Sensplex in March. Girls ages 7-15 can participate in these fun baseball learning and training sessions. New players are welcome and no baseball experience is needed!
Registration is now open for this program. You can register via the RAMP Registration system. If you need help, check out our How to Register page.
Girls are welcome in all KBA programs, including our Advanced Baseball Skills Clinics running from January through April. Registration is also open now for these clinics. See more info here: Advanced Baseball Skills Clinics

2023 Girls Spring/Summer Baseball Season
Building on our momentum from last season we plan to have dedicated girls teams in the following age groups:
Rookie: Ages 7 & 8, (Born in 2013 or 2014)
Minor: Ages 9 & 10, (Born in 2011 or 2012)
Major: Ages 11,12 & 13 (Born in 2008, 2009 or 2010)
Junior: Ages 13-15, (Born in 2006, 2007 or 2008)
Several other Ottawa baseball associations plan to have girls teams this season including Ottawa West, East Nepean, South Ottawa, Orleans and the Glebe. We may also play exhibition games against girls teams from the Outaouais association.
Teams will typically have two practices per week from Monday through Friday and games on Sunday afternoons. The 2023 season will run from early May until the third week of July. Registration will open early in February.
Please note that if we don't have enough players registered to form a Kanata team at a specific age level, we can work with other local associations to have players join one of their girls teams. Our goal is to get as many girls playing baseball as possible.

Girls Baseball Convener
We're happy to share that Brenda Dobbin has taken on the role of KBA's Girls Baseball Convener. Thank you to Brenda for volunteering to lead this expanding program. If you have questions or suggestions about our Girls Baseball programming you can contact Brenda at girls@kanatabaseball.com.
Get Involved
If you can help with our Girls Baseball program in any way, including administration, coaching, or parent helper, please contact Brenda Dobbin at girls@kanatabaseball.com. Women are encouraged to volunteer as coaches and role models for these teams. Of course male coaches are more than welcome as well!