Minor & Major All Star Teams
---
---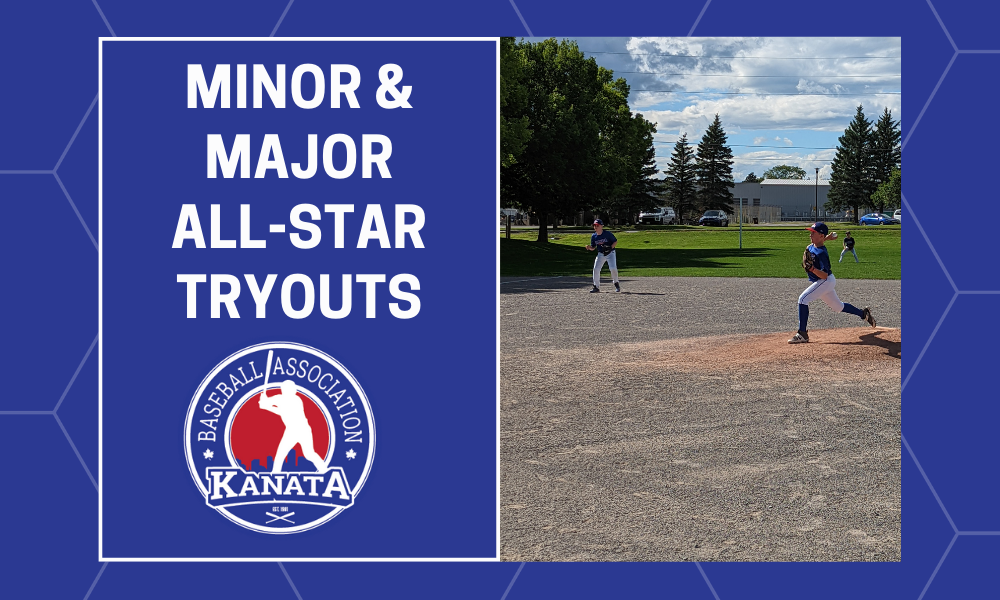 ---
All-Star teams are the KBA's top tier of competitive play under the Little League Canada charter offered to players ages 9 to 12. KBA operates All Star teams in the Minor and Major age categories.
2023 Teams
Level
Ages
Born Between
Registration Cost
Head Coach
Minor
9-10
September 2012
August 2014
$350
Christian Duhard
Major
11-12
September 2010
August 2012
$350
John Lefebvre
Tryouts
Players can register through the RAMP registration system to attend one of the following tryouts.
| | | | |
| --- | --- | --- | --- |
| Level | Date | Time | Location |
| Minor | Saturday, May 27 | 12:00 - 2:00 p.m. | March Central |
| Major | Saturday, May 27 | 3:00 - 5:00 p.m. | March Central |
There is no cost for the tryouts. Players should bring a ball glove and batting helmet. Players can bring their own bat and/or catcher's gear if they like, but this equipment will also be provided by the KBA. If the Saturday tryouts are rained out, they will be held on Sunday, May 28th.
Parents should remain at the tryouts, (i.e. not drop their player off), as some players could be released at any point during the 2-hour time blocks.
Program Overview
Players selected for these All-Star teams will continue to play on their regular spring season house league team in May and June, but they will also practice, play games and participate in tournaments as part of the All-Star team. During the summer season in July and August, the All-Star teams will play in an interlock division against local teams.
Players should expect to play 2 games and practice at least once per week in the summer. Away games are generally held in the greater Ottawa area, but may be anywhere in Eastern Ontario depending on participation from other organizations.
The All Star teams will represent KBA in the District Playdowns typically held in July. Winners of the District Playdowns have the opportunity to advance to Provincial and National Championships, and at the Major Level, the Little League World Series. The All Star teams will also play in the Scott Tokessy Memorial Tournament in Kanata and may play in additional tournaments in Ontario or Western Quebec.
Read the Head Coach Letters for more information on tournaments, costs, and player development.
Minor: Coach Letter - Christian Duhard
Major: Coach Letter - John Lefebvre
If you have questions, you can contact KBA's Director of Competitive Play (competitive@kanatabaseball.com) or VP Programs (vpprograms@kanatabaseball.com).
Costs
The registration fee of $350 for this program covers player uniforms, team equipment, all regular season play during the summer season, District Playdowns, and entry to the Scott Tokessy Memorial Tournament.
Fees for additional tournaments or exhibition games are the responsibility of each team and would require the payment of team fees, though this could be offset through fundraising activities.
Register for a Tryout Today!
Interested players can sign up for a free tryout through the RAMP registration system.