Spring Registration is Open until March 26th
---
---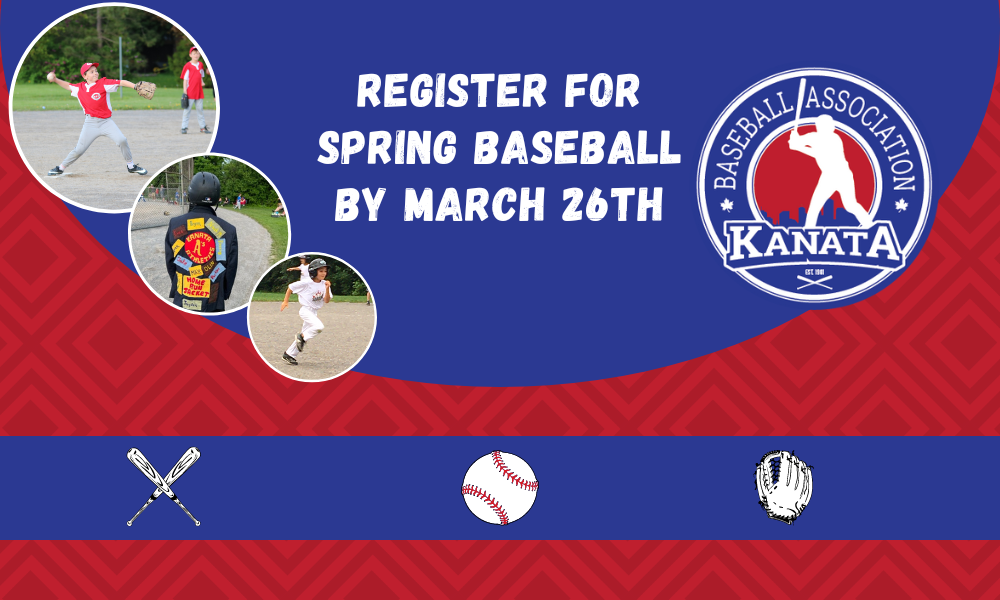 ---
Registration is now open for our 2023 Spring House League baseball season!
These teams are open to all kids ages 5-19 who live in the communities of Kanata, Stittsville, Richmond, Munster, Carp, Dunrobin and the surrounding areas. See our Little League district boundaries here: http://www.kanatabaseball.com/content/about-us.
Details
Check our "What Is My Spring Program" page to see the age groups, program descriptions and fees for these spring baseball programs that run in May and June. Then click on Register in the main menu to sign up via the RAMP registration system.
Coaches Needed
We need coaches to be able to get players on the fields playing ball with their friends. In 2023 we will be offering free training for all house league coaches before the season begins in May. Coaches will get the tools and training needed to run safe and fun practices and to manage games. Our player registration numbers for this year will reflect the number of coaches who have volunteered. Reserve a spot for your player by registering as a coach today through the RAMP registration system. See the registration instructions and make sure to select "Coach/Staff Registration" in the RAMP system.
Girls Baseball
Girls are welcome in all KBA programs, but if you prefer dedicated girls teams and programs, visit our Girls Baseball page for more information.